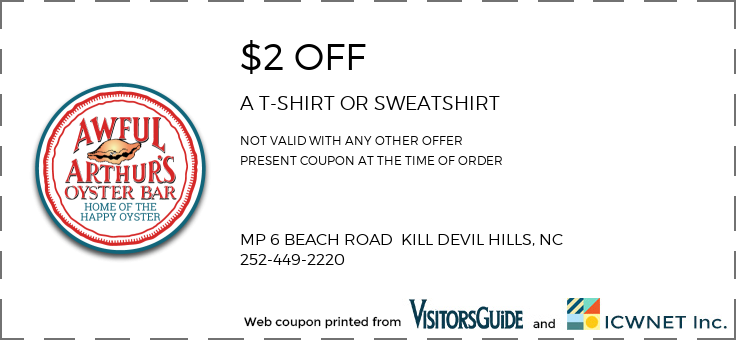 print
Awful Arthur's Oyster Bar
Welcome to the home of the happy oyster where for over 35 years the oyster has been our world. The Outer Banks only authentic oyster bar is the place to enjoy sensational fare from the sea washed down with your favorite brew or cocktail. We serve by the peck, pound, and dozen, raw or steamed to perfection. Kicked back casual, down to earth friendly staff, and reasonable prices make Awful Arthur's Oyster Bar the all-time favorite of locals and travelers alike.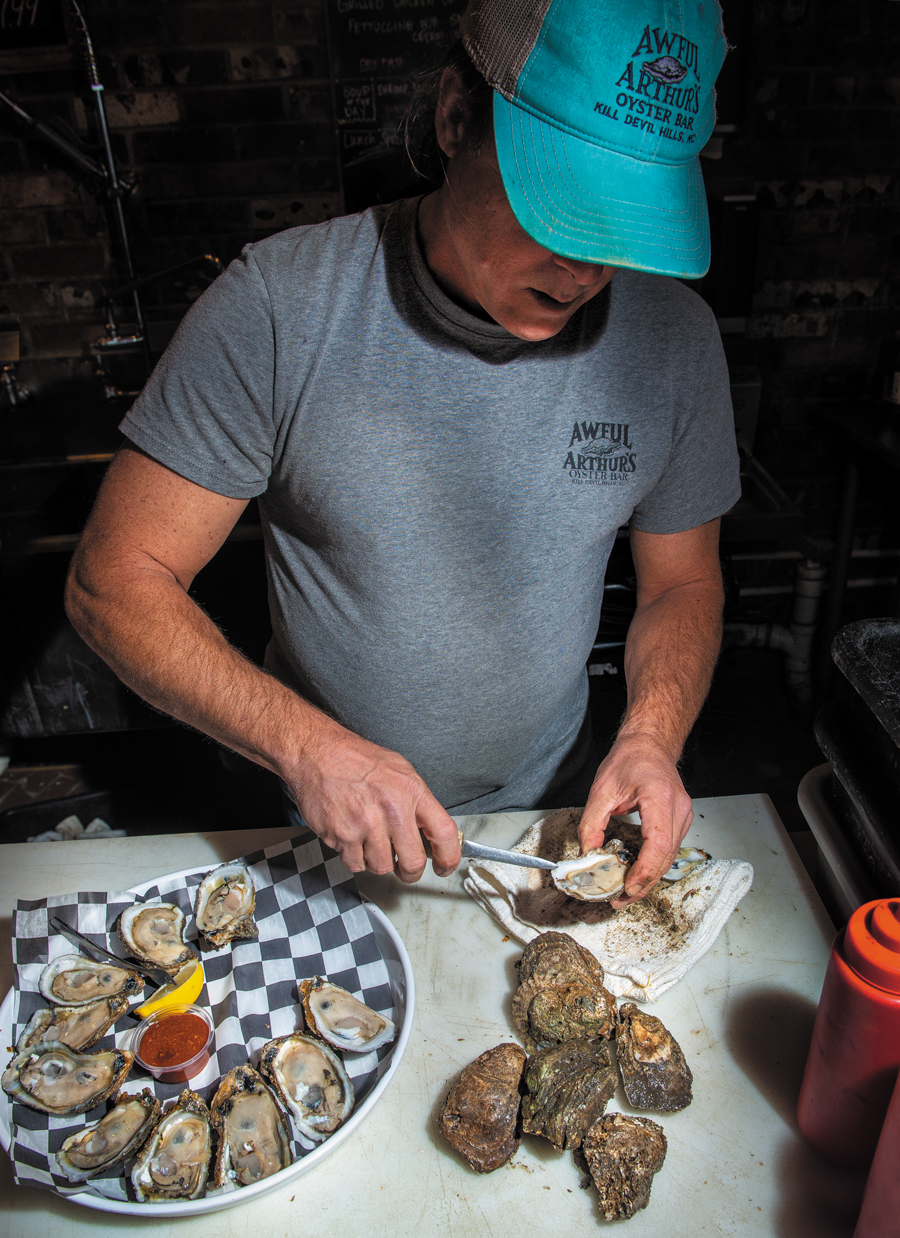 Whether you just discovered this famous Outer Banks restaurant, have been coming in for years, or have always wanted to, one thing rings true: Awful Arthur's Oyster Bar has a reputation that is second to none. The first oyster bar to open its doors on the Outer Banks 35 years ago, Awful Arthur's is a local mainstay known for its fresh, delicious seafood and casual, friendly atmosphere.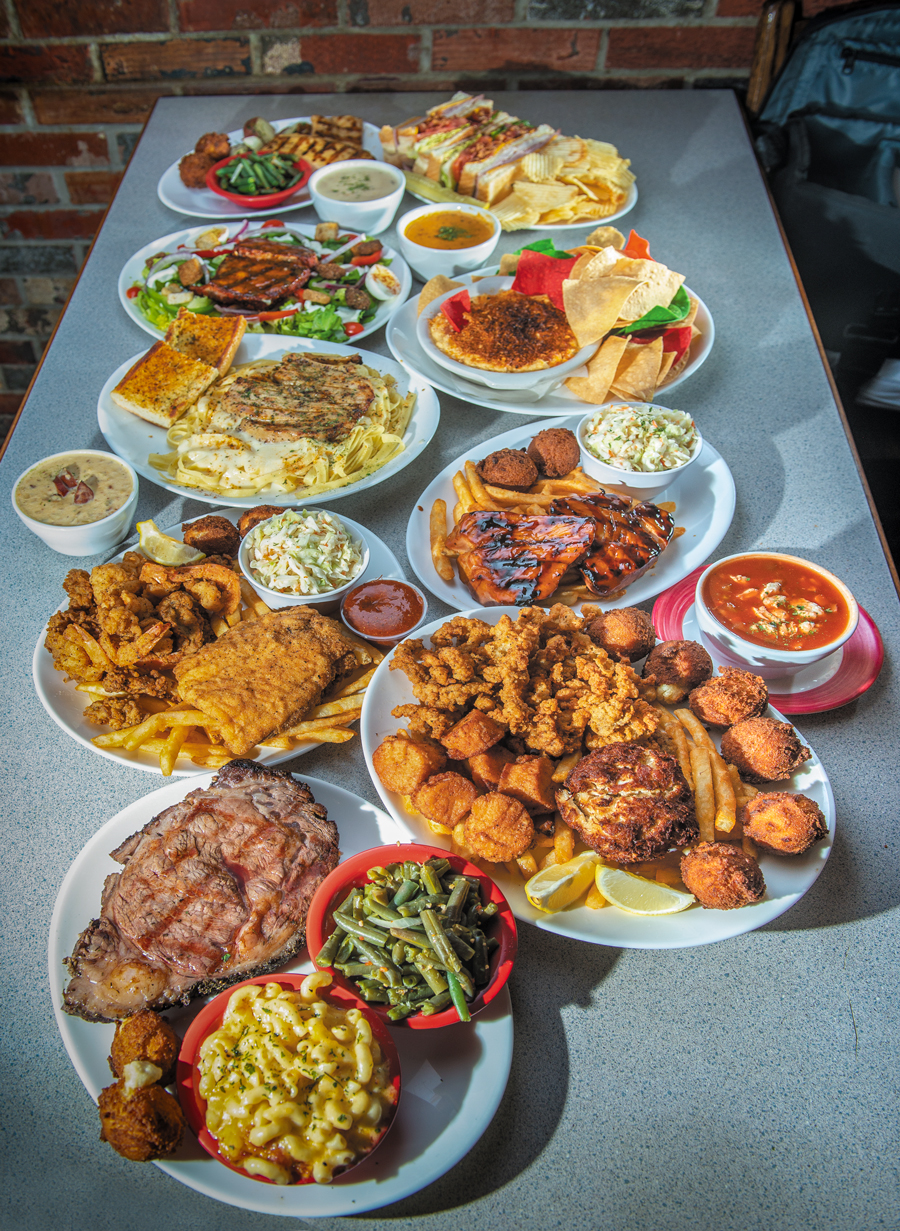 Customers will delight in watching hot oysters come hissing right out of the steamers as the guys behind the bar shuck and serve them on the restaurant's copper-topped bar. Order them steamed, fried, or slurp them down raw; no matter how you like your oysters, Awful Arthur's has it covered.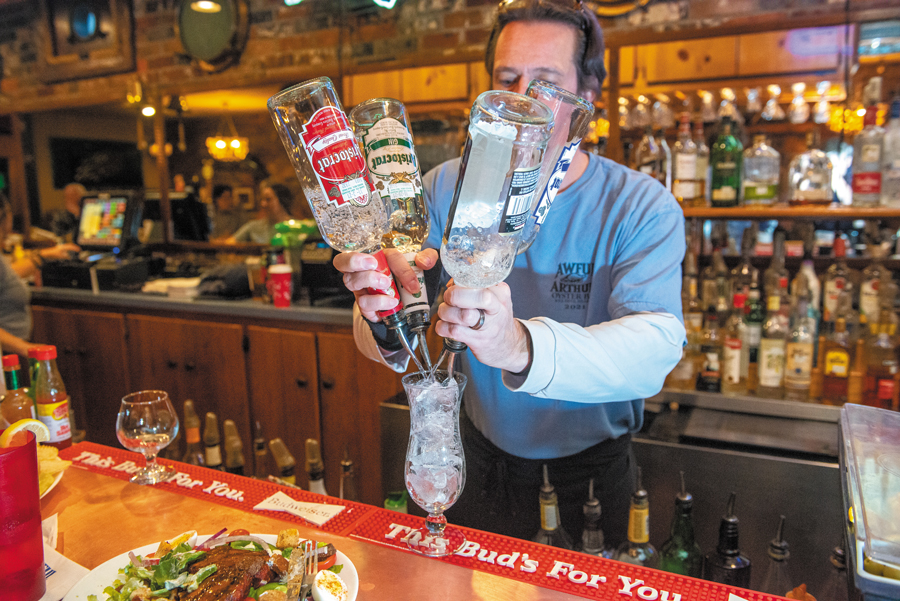 One of the only Outer Banks restaurants with an ocean view lounge, Awful Arthur's emits a welcoming, coastal vibe. Dubbed one of America's greatest oyster bars by Coastal Living magazine and recognized by Esquire magazine for its steamed, spiced shrimp, Awful Arthur's is not only a household name on the Outer Banks, but is recognized all over the country by its emblematic logo, backed by its delicious seafood and other popular menu items.
Nautical adornments lend to the salty, seaside atmosphere of this quintessential Outer Banks restaurant; the perfect place to bring the entire family, enjoy a casual date night or join a group of friends to enjoy a peck of oysters, an ocean view, cold drinks and good times! Kicked back is the name of the game and Awful Arthur's plays it well.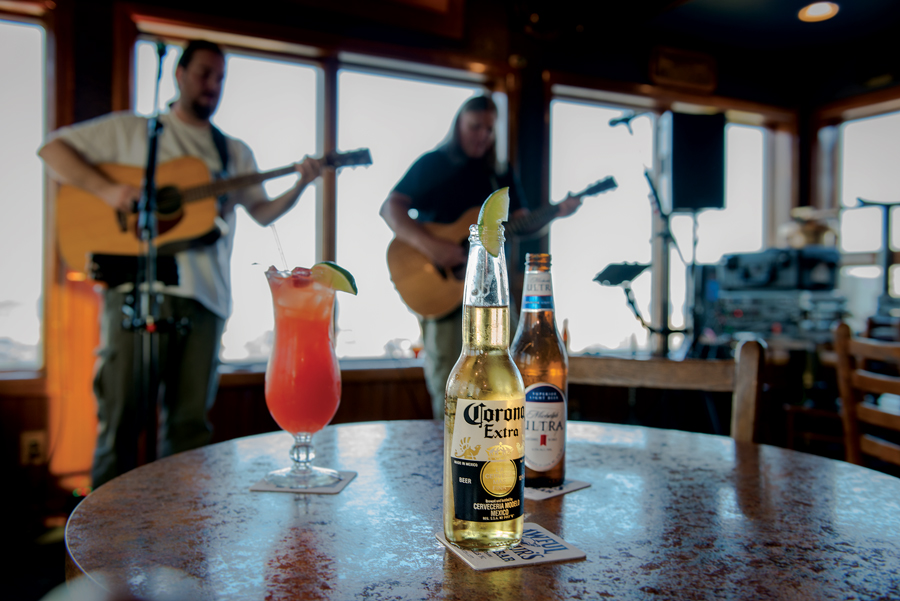 Jo Whitehead proudly describes her oyster bar: "People want to sit at the Oyster Bar to watch and be entertained by the guys steaming all the oysters, shrimp, crab legs, and clams in front of them!"

Awful Arthur's has been recognized by Esquire magazine for their steamed, spiced shrimp and took home 2014 'Taste of the Beach' award for the chowder cook off.
A Little History
Born and raised in Virginia Beach, owner Jo Hopkins Whitehead moved to the Outer Banks in 1985 with her then soon-to-be-husband Jay, after she graduated with a business degree from Atlantic Christian College. The couple opened Awful Arthur's Oyster Bar, and after getting married in 1991, Jo and Jay would expand their venture of Whitehead and Whitehead to include Awful Arthur's Beach Shop and Bad Barracudas Raw Bar & Grille.
After having two children, Katie and John, Jay's untimely passing left Jo to run their three businesses and her family on her own, so in 2005 she decided to sell Bad Barracudas to focus on Awful Arthur's Oyster Bar and the beach shop. Katie graduated from Elon University, in 2017 and John will be a junior at Hampden-Sydney College this fall. Today, she continues to thrive. In the spirit of Jay's legacy Jo continues to give back to the community through many charitable donations and her work with the Outer Banks Community Foundation's David Stick Legacy Society and the Outer Banks Relief Foundation.
Along with its esteemed national recognitions, Awful Arthur's was the proud winner of the 2014 Outer Banks Taste of the Beach Annual Chowder Cook Off for its popular shrimp corn chowder. Awful Arthur's isn't just about oysters, there's also a wide selection of crab legs and clams from the steamer, fried seafood, or steaks, chicken, pasta and salads to choose from that keep people coming back year after year. Oh, and don't forget to get a homemade dessert before you leave; they truly put the icing on the cake.
Chef AJ Johnson has been with Awful Arthur's for 25 years and in 2011 was promoted to head chef and kitchen manager. Consistency and customer service are two of AJ's hallmarks as a chef, and many of the restaurant's regular customers wouldn't consider it a complete experience without a visit from him. AJ attributes Awful Arthur's enduring reputation to the effort of the staff led by Whitehead, with some employees having been with the restaurant for more than two decades.
If longevity is any indication of quality, it's no surprise that over the past three decades, Awful Arthur's has become a favorite among both locals and visitors.
Now come and taste the fresh seafood that started that reputation!

Also, stop by next door at Awful Arthur's Beach Shop for great logo apparel, resort wear, fashion jewelry coastal décor and everything for the beach. Get your $2 off coupon from the Outer Banks Visitors Guide or the Outer Banks Go Guide or print out the coupon above.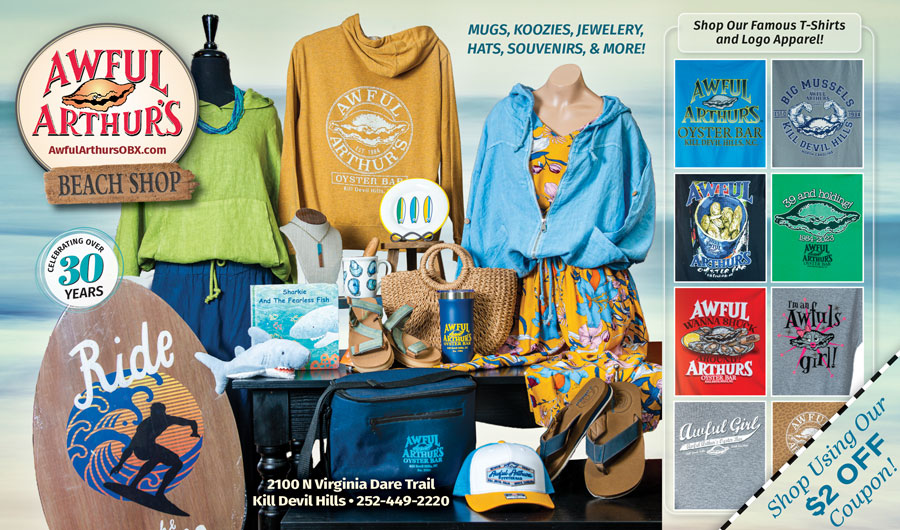 SPECIAL PROFILE
The idea wasn't to set out and establish a new concept restaurant on the Outer Banks, but that's exactly what Awful Arthur's owner Jo Whitehead and her late husband, Jay, accomplished more than 35 years ago when they opened the area's first authentic oyster bar.
Awful Arthur's opened in May 1984 on the Outer Banks. "We embraced the concept of an authentic copper top bar with the idea of it being a major drawing card and it still is," explains Whitehead. "I get oysters wherever they are local. We follow the warm waters."
Just across from the ocean, in Kill Devil Hills, oyster season is year-round at Awful Arthur's. Diners can take a seat at the copper-topped bar to observe the staff shucking oysters, served raw or steamed, along with shrimp, crab legs and clams all steamed to perfection.
It's not just the raw bar that's earned Awful Arthur's both local and national recognition, including being named one of America's greatest oyster bars by Coastal Living magazine. The restaurant is a seafood-lover's paradise, offering the freshest catches available.
Start your meal with creamy crab and lobster bisque or New England-style clam chowder. Crack open snow crab legs or get your fill with one of the large-portioned seafood platters featuring the catch of the day, along with oysters, shrimp, clam strips, crab cakes or soft-shell crabs.
Awful Arthur's menu doesn't stop at seafood. The restaurant has something for every diner, including a kid's menu that is sure to please even the pickiest eater.
"I do sell a lot of game fish and other seafood, as well as steaks, chicken and pasta," notes Whitehead. Awful Arthur's has no shortage of other options. A local favorite in the spring and fall that's not to be missed is the Friday night prime rib dinner.
The casual, family-friendly restaurant is also known for being one of the only restaurants on the Outer Banks with an ocean-view lounge. Located on the second floor, across from the Avalon Fishing Pier, the lounge is the perfect place to relax and take in the view while you wait for a table and enjoy an appetizer with a refreshing beverage.
The nautical décor, that has been collected for decades, adorns the walls of the main dining room. From the welcoming, laid-back atmosphere to the locally caught fare, a trip to Awful Arthur's is a must-have Outer Banks dining experience.
In the mood for a little retail therapy? A few steps from the restaurant you can visit Awful Arthurs's Beach Shop where you will find their logo apparel, resort wear, fashion jewelry and everything for enjoying the beach, such as toys for the littles, beach chairs and coolers to fill with ice and your favorite drinks.
–Interview by Arielle Patterson
MP 6 Beach Road
Kill Devil Hills
awfularthursOBX.com
252-449-2220