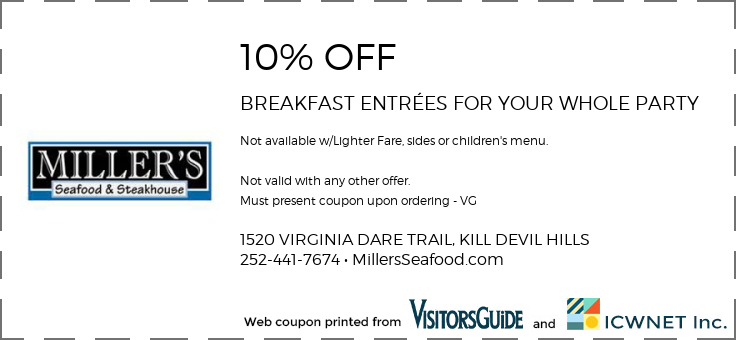 print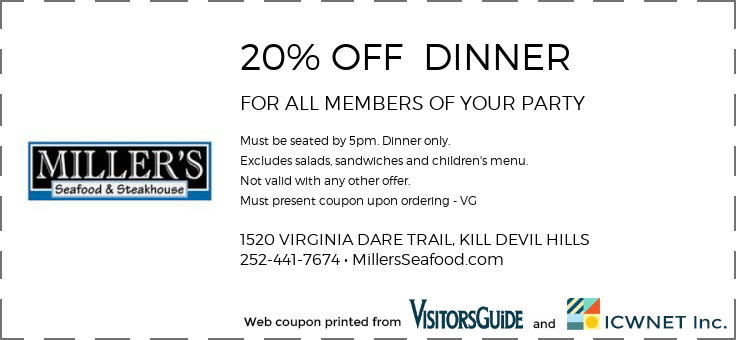 print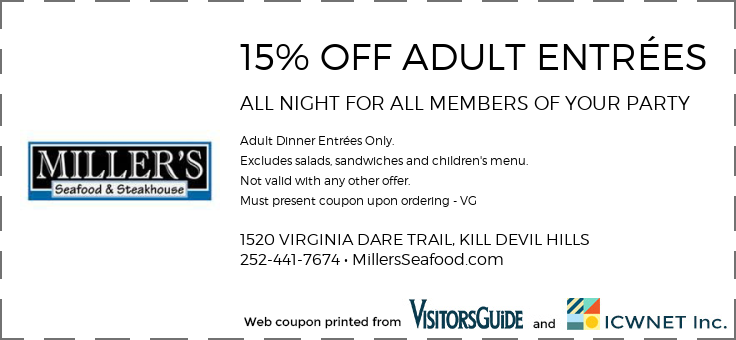 print
Miller's Seafood & Steakhouse has been a favorite among locals and visitors for more forty years. Offering delicious southern cuisine for both breakfast and dinner in a casual family atmosphere infused with coastal flair, it's no wonder this Kill Devil Hills restaurant is a family tradition for so many. You'll love waking up to favorites like biscuits and gravy, farm fresh eggs and buttermilk pancakes. Dinner options are just as tempting with menu items that include the freshest Outer Banks Catch seafood, she crab soup, Angus beef and fried green tomatoes just to name a few.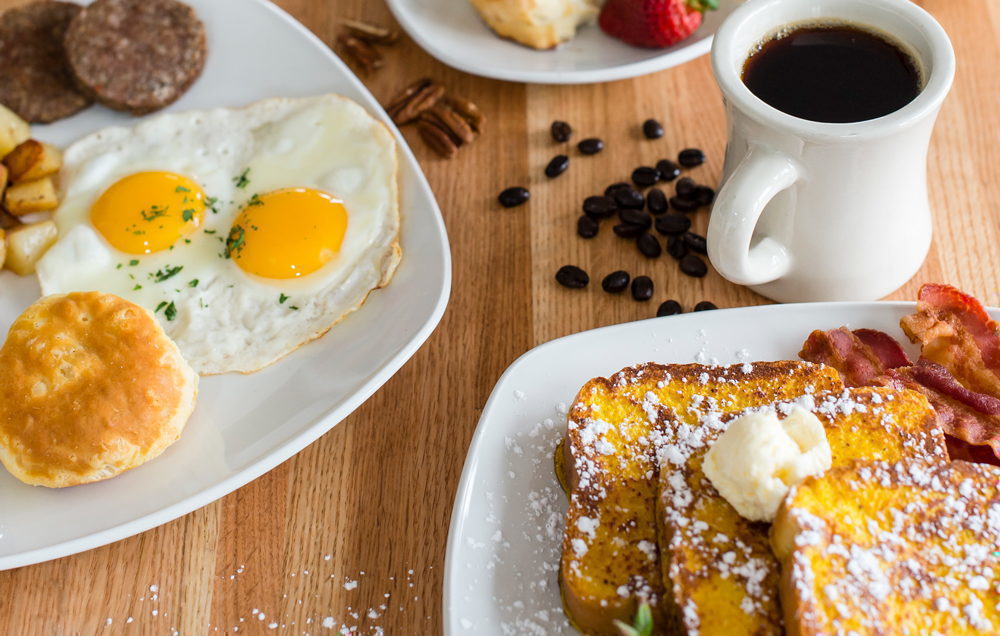 Not only does Miller's Seafood & Steakhouse offer great breakfast and dinner options, Miller's newest menu item – Hawaiian/American Fusion Sushi – is sure to please the sushi lover in you. From the Miller's Roll that combines tempura fried crispy lobster tail with tantalizing ingredients to the High Tide and OBX Roller, guests will love choosing from a delicious variety of sushi options developed and prepared by Miller's expert Sushi chef.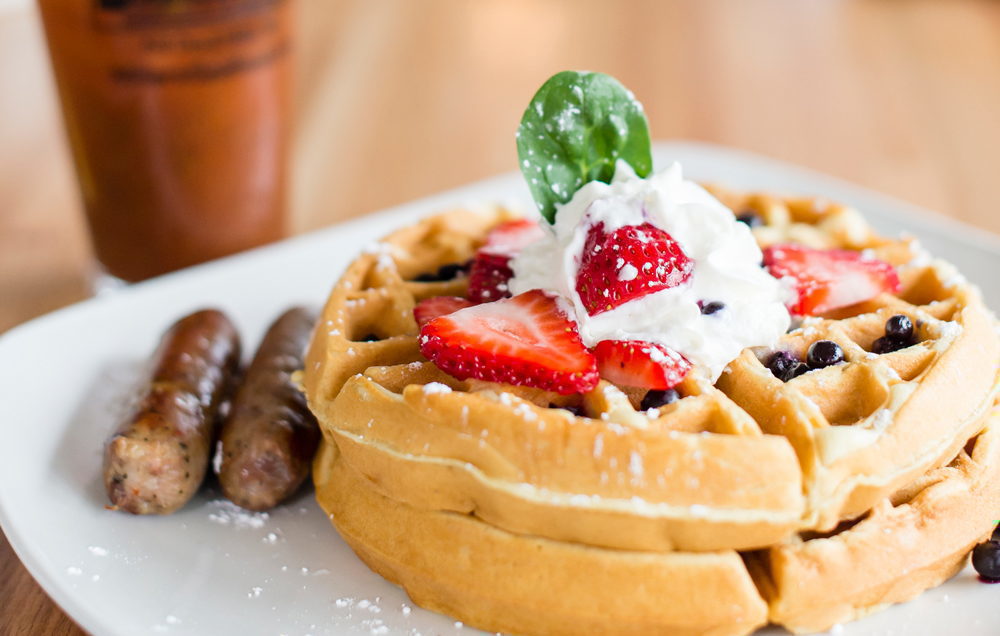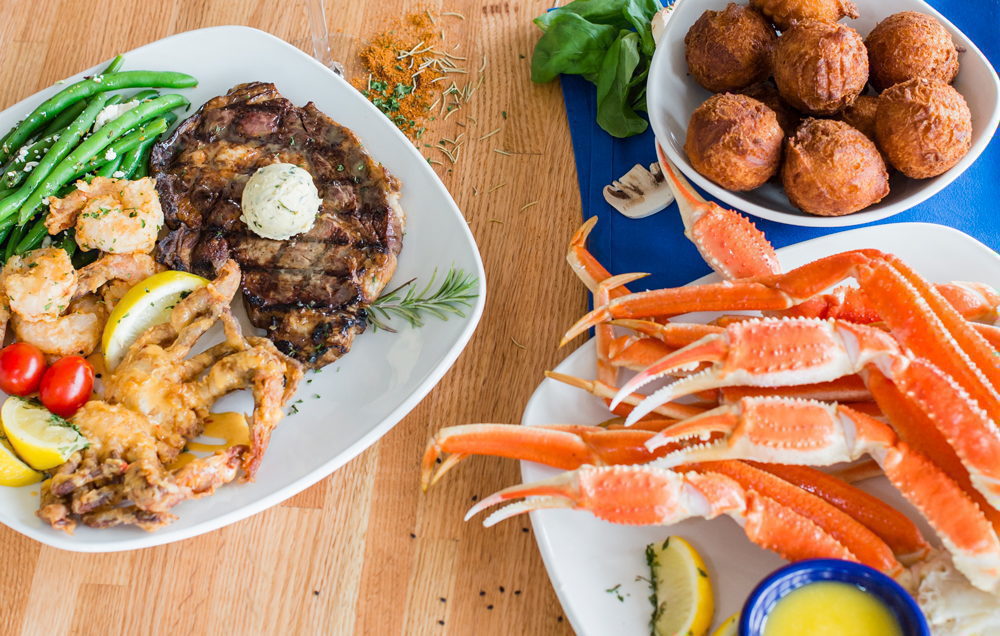 With a menu like Miller's, along with a cant-be-beat children's menu, you can rest assured that there is something for everyone in your party – a delicious dish that will keep you coming back again and again.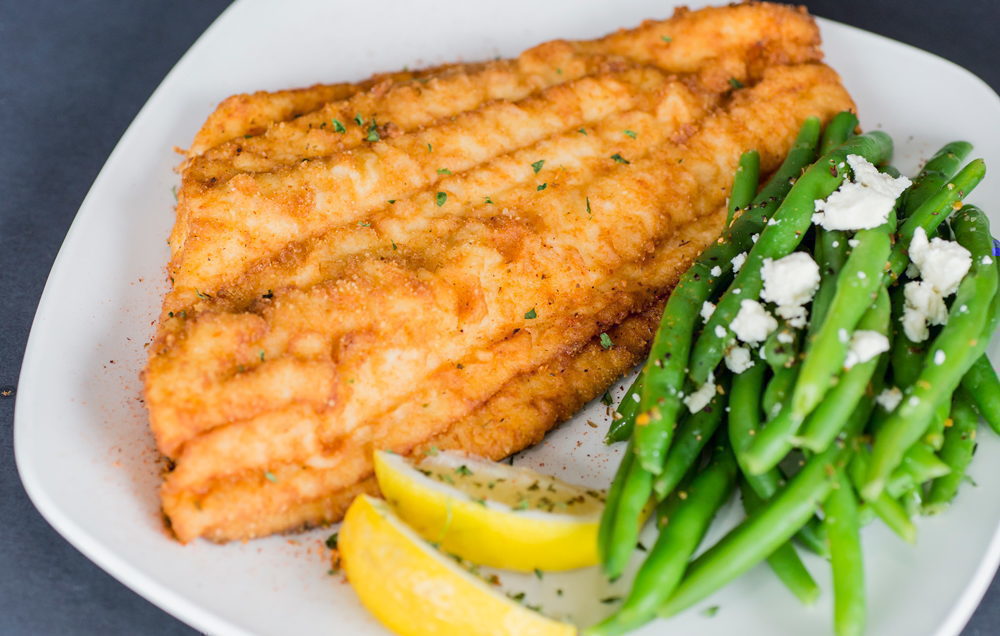 Along with its scrumptious cuisine, Miller's Seafood & Steakhouse offers a warm friendly atmosphere coupled with genuine Outer Banks hospitality. You'll discover that not only is Miller's a tradition for so many, it's also a Miller family tradition. Two generations of Millers have worked side by side to make the Kill Devil Hills restaurant a favorite for all who pass through its doors. Owners Brian and Beth Miller want guests to feel at home and can often be found making rounds to check on customers and mingle with them as they dine.
Here at Miller's, everyone is treated like family as they experience an unforgettable dining experience. Large parties are also welcome, making it perfect for extended families to enjoy dining together on their Outer Banks vacation. Come on in and see for yourself why Miller's Seafood & Steakhouse is more than just a great restaurant. It's a tradition.