Duck
Kill Devil Hills
Corolla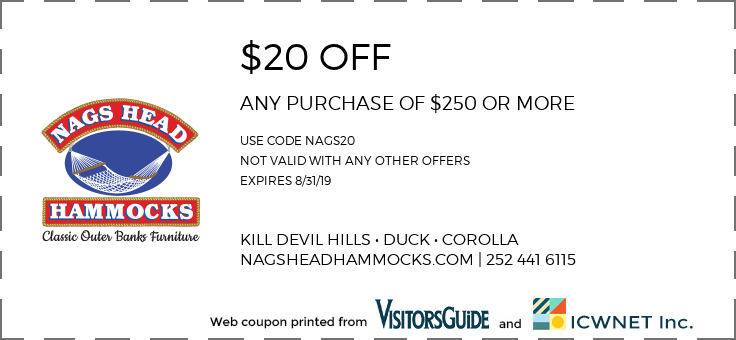 print
Nags Head Hammocks offers handcrafted, made-in-the-USA, high-quality hammocks and outdoor furniture. Bring home artisan hammocks and furniture that will have you relaxing long after you leave the Outer Banks.

For over 40 years, Nags Head Hammocks has offered outdoor living products that celebrate the ease and relaxation of life in the Outer Banks. Check out Nags Head hammocks for a wide selection of hammocks, swings, chairs, rockers, pillows and stands with the peace of mind that all of the products are handmade in North Carolina.
The solid craftsmanship of Nags Head Hammocks means your hammocks and outdoor furniture will last generations. Swings, hammocks and other products come in a variety of sizes to suit your space. The experts at Nags Head Hammocks will help you figure out how much space you have and the best place for you to hang a hammock at your home as well as the best way to go about hanging it and caring for it.
Nags Head Hammocks has stores in Kill Devil Hills, Corolla, and Duck, NC. There's no better place to purchase a hammock than from the Outer Banks when you are inspired by the Outer Banks nature to just let go and relax. At Nags Head Hammocks, handcrafted quality offers exceptional comfort and durability for hammocks and other outdoor fixtures and furniture.