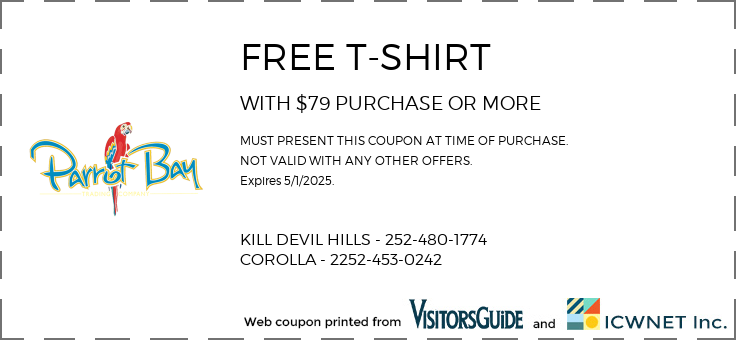 print
print
Parrot Bay Trading Company is a great stop for all things beachy. Whether looking for something to enhance your vacation or a souvenir to remind you of the Outer Banks, you will have plenty of choices. The OBX logo is found on everything from coffee and tea mugs to dog collars.
Shelves are filled with lots of drinkware including Tervis Tumblers and popular blue, pink and green plastic tumblers with lids and straws. Clothing abounds from the sporty to flirty including summer dresses – short and long – in a wide variety of styles and colors. Tribal Surf offers rashguard wear for the athlete, and Kami features surf shorts. Choose from a variety of Hatteras-emblazoned, long and short-sleeved T-shirts for adults.
Kids will leave outfitted in beach dresses, swim suits, hoodies, sweatpants and T-shirts. A rack of bikinis in bright primary and secondary colors grab the eye. Find sunglasses, sea-inspired metal wall art, and trinkets galore including souvenir thimbles, postcards, snow globes, lighthouses, hot sauces and calendars. Jewelry abounds including make-your-own bracelets with DaVinci beads!
Don't leave without checking out the India Boutique handbags. These beauties are a must have!
The Kill Devil Hills location is open year round.