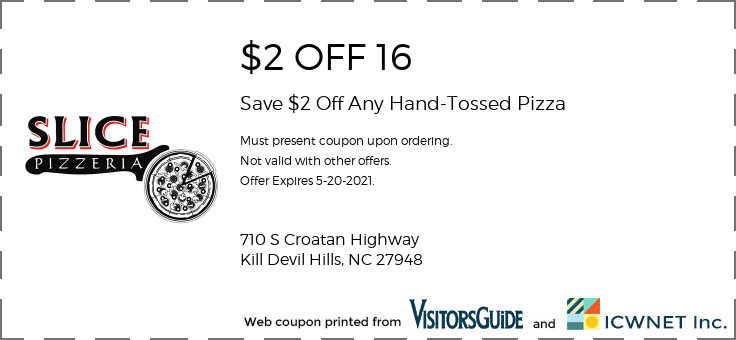 print
Sometimes you want a whole pizza, sometimes you just want a slice. Thankfully with Slice Pizzeria, you've got plenty of options. This popular dine in and take out restaurant serves up some of the tastiest pizzas you can experience on the beach, all made with fresh ingredients so that you can taste the quality.
Slice Pizzeria offers a full menu of salads, sandwiches and Italian food and pasta dishes, but it's the pizza bar that gets your full attention when you walk in the doors. Choose from over a dozen gourmet pizza options for pizza by the slice, or order a custom pizza of your very own. And now for your convenience we offer Online Ordering!
You can also create your own stromboli or calzone as well. Gourmet pizzas include cheese, meat lovers and veggie lovers as well as more unique options: Margherita Pizza with shredded mozzarella cheese, fresh garlic, diced plum tomatoes, basil, olive oil, parmesan cheese and fresh ovoline mozzarella; Natural Gourmet Pizza with shredded mozzarella cheese, plum tomato sauce, fresh basil, 100% extra virgin olive oil, parmesan cheese and fresh ovoline mozzarella, Baked Ziti Pizza with mozzarella and ricotta cheese, tomato sauce, penne pasta imported parmesan cheese and fresh parsley; or Stuffed Meat Pizza with cheese steak, fried onions, pepperoni, sausage, ground beef, meatballs, served with seasoned tomato sauce.
The pizza slices are large and filling, but you may want to order a few savory garlic knots as a side item. Lunch and Dinner entrees, such as Chicken Parmigiana and Stuff Shells are served with garlic knots and offer a great value.

For a wonderful and convenient meal, including top-notch, made-from-scratch pizza, stop in Slice Pizzeria and enjoy every bite.